PureBio Features
---
Made with respect to the environment and human skin and having exceptional features, our Products are making a difference.
Eliminates 99.99% of Bacteria, Viruses and Fungi. Very Effective Against Norovirus
A 2 oz bottle of PureBioGuard Hand Sanitizer is designed to provide a single user with anywhere from 60-90 days of all-day protection from germs. PBG is applied as a fine-mist spray and not much is required per use to achieve full protective coverage. In other words – a little bit goes a long way!
Completely Safe
PureBioGuard is alcohol-free, triclosan-free, non-toxic, and completely safe for kids, pets, and the environment. 
Alcohol-Free (Doesn't Dry Your Skin)
Contains soothing botanicals that soften your hands to prevent drying, redness, and chapping (and it smells nice!) 
12+Hours of Protection from a Single Application
UNLIKE alcohol-based sanitizers that provide very short (seconds to a few minutes only) protection due to alcohol's evaporative nature, PBG's proprietary formula bonds with the surface of the skin to protect for 12+ hours.

Continues to Protect Even After Hand Washing
The antimicrobial layer created by PureBioGuard has been proven to maintain effectiveness through up to 10 hand-washings! 
Other Features
How PureBiologix Works
PureBio Advantages Chart Comparison
| Comparison | PureBio | Alcohol Sanitizer | Explanation |
| --- | --- | --- | --- |
| 12+ Hr. Protection with One Application | YES! | No | Protects for 30 Sec. Alcohol Quickly Evaporates |
| Complete Non-Alcohol Formulation | YES! | No | 60+% Alcohol Content |
| Kills Bacteria, Viruses, and Fungi on Contact | YES! | No* | Yes, Some No |
| Gently Moisturizes Sensitive Skin | YES! | No | Alcohol Causes Drying, Chaffing, and Cracking |
| Prevents Pathogen Mutation (Superbugs) | YES! | No | Encourages Superbugs in Some Circumstances |
| Non-Toxic, Non-Flammable | YES! | No | Highly Toxic, and Highly Flammable |
| Clean, Refreshing Scent | YES! | No | Unpleasant Alcohol Odor |
| All-Day Germ Protection for Pennies | YES! | No | Comparable All Day Protection is Virtually Impossible & Expensive |
| Antimicrobial Protection Even When Applied to Soiled, Dirty, Greasy Hands | YES! | No | Alcohol CANNOT Penetrate the Dirt or Oily Layer and it is Ineffective |
PureBioGuard ™ Surface Spray Disinfectant
PureBioGuard ™ Surface Spray Disinfectant is an environmentally friendly option when it comes to disinfecting common surfaces. It differs from other area sanitizers because it kills pathogens through physical rather than chemical means.
It will adhere to any surface including:
fabrics, carpet, upholstery, drapes, linen, wood,
plastics, stone, porcelain and metals. It can be used in
any application where there is a need to keep the
environment clean and healthy, especially where there
is interpersonal contact and a high risk of cross
contamination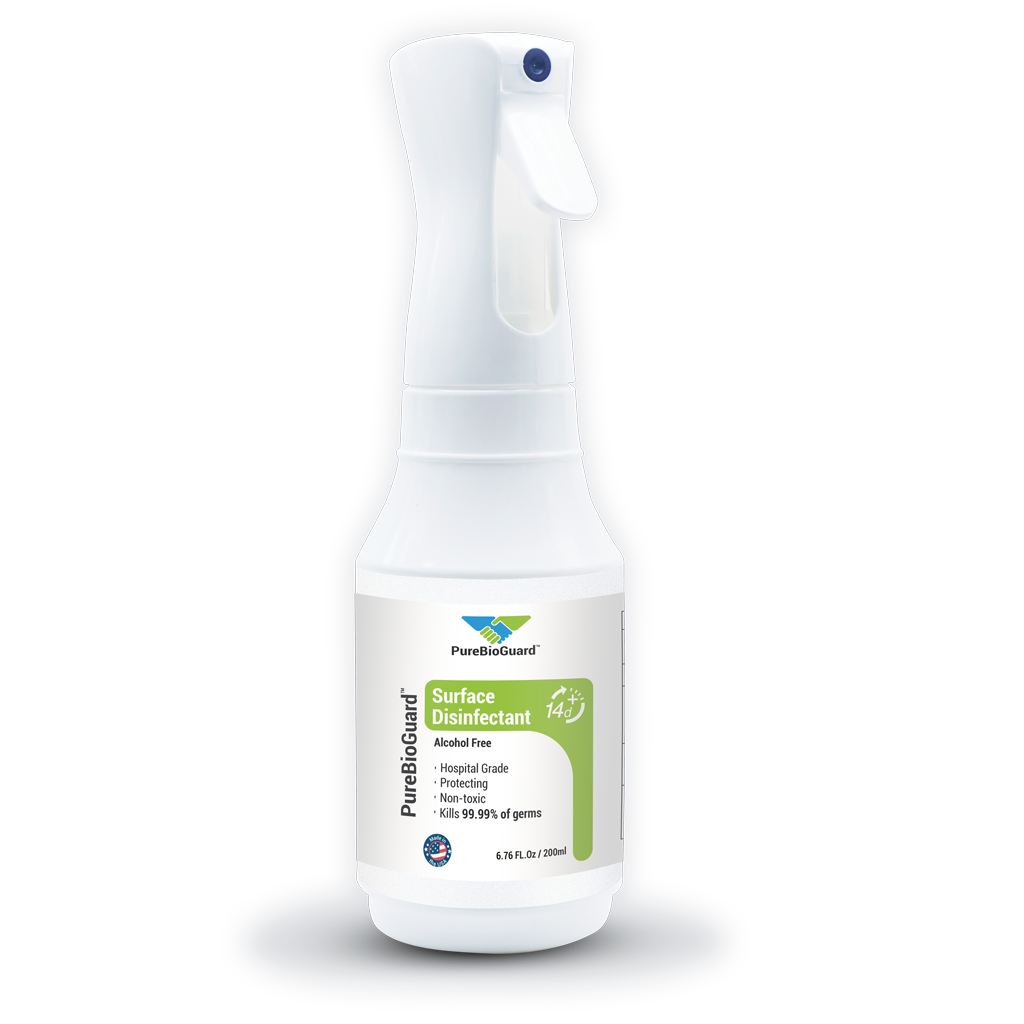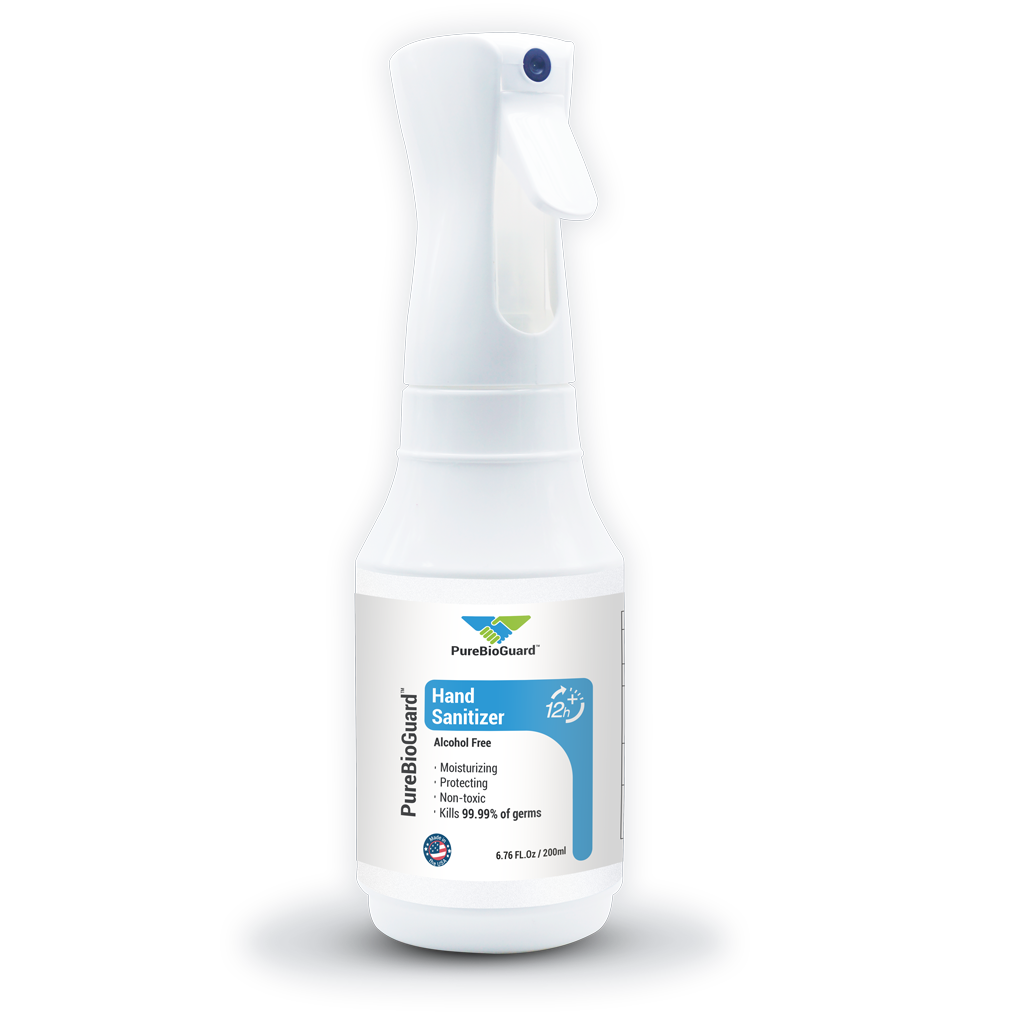 PureBioGuard™ Hand Sanitizer
It is a unique product that forms a protective antimicrobial barrier on your hands, offering long-lasting protection against germs while gently moisturizing the skin.
A single application of PureBioGuard™ Hand Sanitizer on the skin not only eliminates and inactivates bacteria, viruses and fungi, but also prevents reinfection by maintaining a long-lasting protective barrier. Other hand sanitizers primarily contain ethyl or isopropyl alcohol formulations and only provide protection for a few minutes. PureBioGuard™ Hand Sanitizer works by destroying the outer membrane of the pathogen, (see diagram). Alcohol-based hand sanitizers poisons the pathogen, thus triggering microbe resistance over time
---